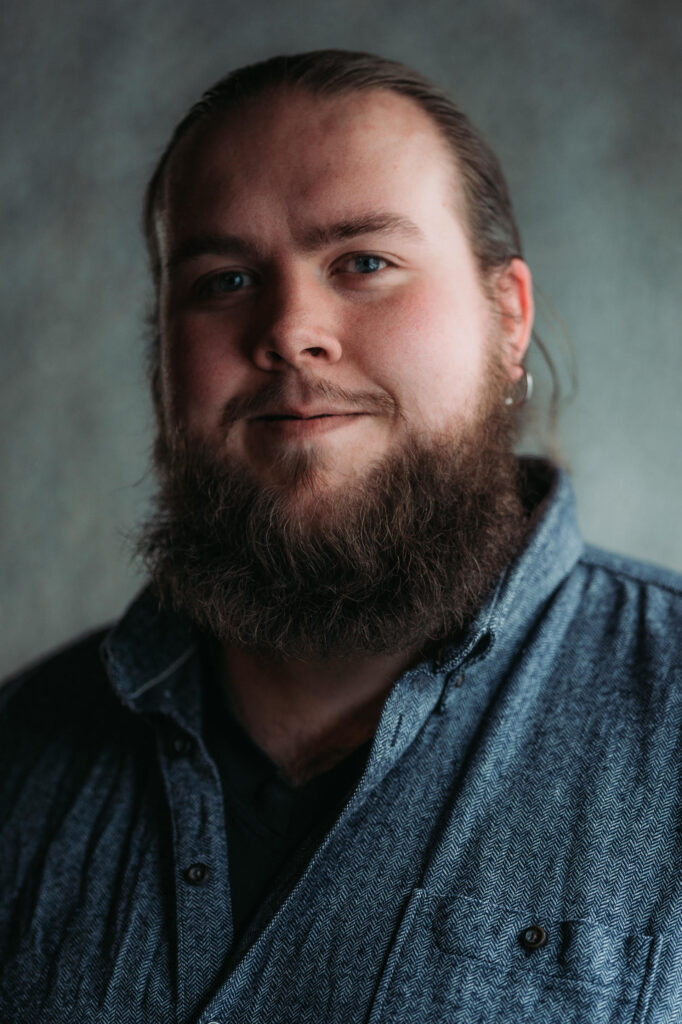 Jon Erik Myre is a Norwegian freelance actor, singer, caster and filmmaker, who is currently based in Oslo.
He has been working professionally
in the industry since 2012 and has his acting background from the youth theatre in his hometown Kristiansand. He has also been active in the city's film community, both as an actor and casting agent, and in the music industry as a vocalist and keyboardist.
On stage Jon Erik has played parts in plays such as The Brothers Lionheart, Journey to the Christmas Star, Victoria by Knut Hamsun, Skinnet Bedrar by Knut Nærum, the musical Chess, where he played Anatoly (the Russian), and in the Captain Sabertooth franchise in Kristiansand Zoo and Amusement Park, where he was part of the cast for seven seasons.
In the fall of 2016, Jon Erik played the part of Pål, a member of the far-right group Soldiers of Odin, in the newly written play Anne Frank´s Siblings at Kilden Teater- og Konserthus. In February of 2017 he was a part of the first production of Birkebeinerspelet at Mesna by Sjusjøen, and before Christmas that same year he toured the eastern parts of Norway as part of the family musical Natt i Nisseland. The following year Jon Erik was back at Mesna, and just before Christmas, he repeated yet another tour with Natt i Nisseland. In the summer of 2019 Jon Erik produced, together with colleague André Lassemo, the play Terroristene by Kolbein Falkeid at Kristiansand Canon Museum. It was played in a kasematt from the second world war, and revolves around a group of leaders in the Red Army Fraction, better known as the Baader-Meinhof Group. As well as producing, he also played the terrorist Otto. Towards the end of the summer he played director Hermanrud in Kampen om Wøyengutta. Just as Terroristene, this play was based on real events, and took place at Vøyen Gård in Bærum where a dramatic power struggle took place in the 1950s.  Before Christmas 2019, Jon Erik once again played the character of Igor in Natt i Nisseland. In the same period he reprised the role of director Hermanrud in the new play – Jul på Wøyen. Jon Erik also co-wrote the script for this, together with Madeleine F. Røseth. In February 2020 Kanon Produksjon produced their second play in the south of Norway, Harold Pinter's The Dumb Waiter, at Teateret in Kristiansand. Here he also played the character Gus, one of two hitmen sitting in a basement room waiting for further assignment.
Besides acting, Jon Erik is also a proficient singer and songwriter who plays piano, guitar, saxophone and a variety of flutes. Having been a part of several bands he's already gathered a broad experience performing live and has played concerts at Kilden, Canal Street as well as other venues around the southern parts of Norway. Through these projects, he's had the opportunity to tackle genres like feel-good funk, prog-rock, pop, as well as his own projects. As well as studio experience as a musician, he frequently works as a voice-over artist and has given his voice to several informational films, advertisements and e-learning courses.
Beyond his roles and performances on stage, Jon Erik has also been a part of ads, short films and TV-series in Kristiansand and Oslo, and has worked as a casting director for both short – and feature films.
Jon Erik is a motivated and versatile actor, with a strong urge to tell important, thought-provoking, emotional stories. In addition to bringing joy, and excitement to his audience, he wishes to challenge both adults and children alike, through both stage and screen.